Newest addition to our family
We've named her Marzipan-- Marz for short, she's 9 weeks old and we picked her up last night. She's from a local Rescue program, and she's sooo playful. She's a yellow lab, just like Otis was, and was born about the same time that Otis passed away. Jason ran into the guy at our vet when he happened to stop in to get some Frontline for Patches, and was walking out the door when the secretary called him back to tell him about Abbey. We think it was just meant to be. She's a cutie, even though she kept us up all night last night. Hopefully, Patches will get used to her-- there were a few confrontations last night. Patches is actually bigger than her right now.
Novelty purse for the library
This is one of the purses I dropped off this morning at the library. All went well-- I can't wait to see if anything of mine sells. I don't like this one, but they seemed to. I'm not much of a novelty girl I guess.
Another purse for the library-- I almost kept this one for myself. :)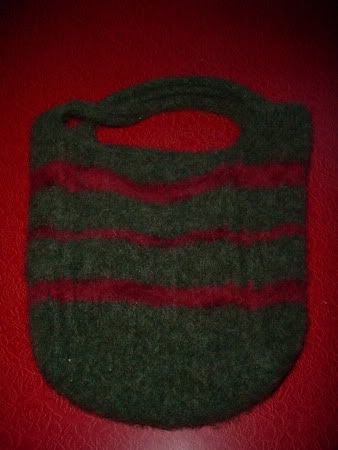 This one I love. I almost kept it for myself, but decided not to. The green is some leftover wool I had from my Bucket hat, and the pinkish (looks red, but it's more like a rose-pink) is my kool aid dyed wool. The stripes are straight in real life, I swear ;) I think it's cute. I'm going to have to knit another with those type of handles.