Pictures Pictures Pictures
I received in the mail today, TWO RAOKs, 1 secret pal gift (from sp2) and a Patternworks catalog. How fabulous is that?! First of all, I received 2 balls of sock yarn in a great green colorway from
Ginny
, and I also got a wonderful smelling bar of soap from
Annie
. Thank you both so much!
Next up from my camera is my secret pal gift! My secret pal has obviously been reading my blog, because she sent me 2 skeins of Fisherman's Wool that I can't buy locally anymore, TONS of Kool Aid packets (can't WAIT to dye with them), a kacha kacha counter, a retractable clothesline and an adorable bar of soap. As soon as I spread them all out to photograph, Patches came right over and plopped down in the middle to smell everything. He's so goofy lately.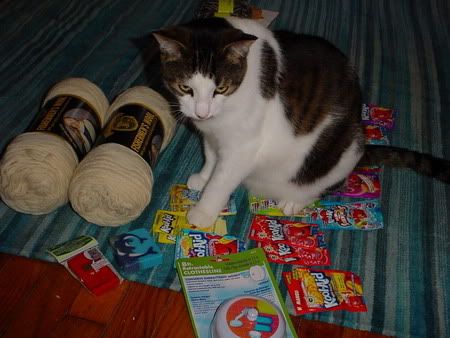 And here's a picture of my SIL's Christmas present-- a novelty scarf. Took me less than a day to finish.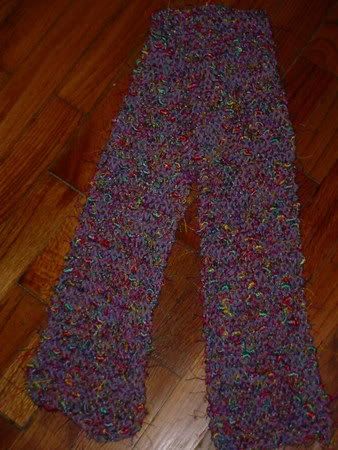 And P.S. If you're in the mood for some funny stuff, head over to
Homestar Runner
if you've never been. The Strong Bad emails are hilarious! I like Trogdor the Burninator, too.