Poncho Pics!
Ok, just one, but
still
.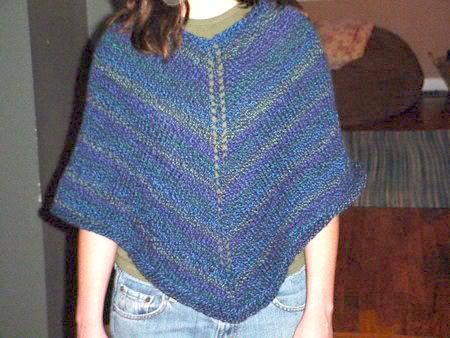 I'm really happy with how it turned out. In fact, I'm feeling the urge to cast on for another. Ponchos are addicting, didn't you know?
And thank you so much for the kind words, those of you who left comments. I'm going to contact each of you directly when I get a moment, but here's a big thank you right now. I'm still undecided on what I'm going to do. I do need to go to the doctor and make some decisions. I also need to find out what our health insurance covers as far as that goes.
Anyways, I was actually called this morning by a school district to go to an emergency orientation, as they had fewer subs than they thought they did, so I am signed up to sub at one school district so far. It won't be enough, but at least it's something for right now, so that's good news I suppose.
Of course the hardcore reality tv fans already know this, but tonight is the premiere of the new Survivor! Yippee! I have to confess to being a huge Survivor fan, and I can't wait to see how this one pans out. I don't know how much knitting I'll get done, but I plan on working on my mom's sock while watching.