Edit: I'm back with pictures! (p.s. the first time I typed that I typed idiot-- freudian slip LOL).
Here's a picture of my pair of mittens from Lion Brand Landscapes and one of SIL's for Christmas: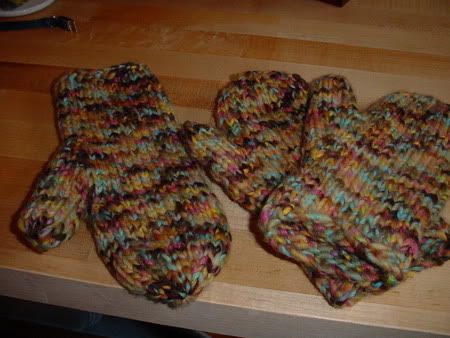 And I just have to show you these two pictures. Since the first week we had Marzi, she claimed my blanket basket as her living room bed. Well, here's a picture of her from that first week: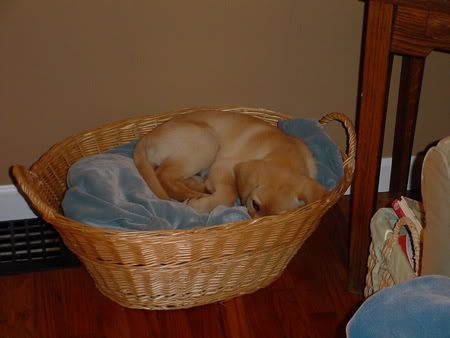 And here's a picture of her in the same basket today, sleeping: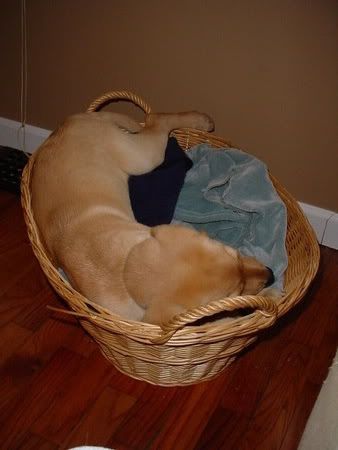 Look how much she's grown! I can't believe it!
Here's another just-because-she's-a-cutie picture: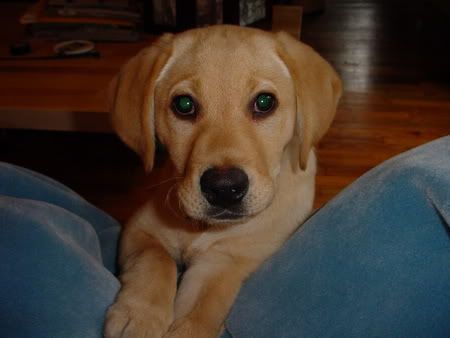 Only have time for a quick post, but I just listed a ton of books on Ebay-- craft books, a knitting book, cookbooks, and more! Check it out
HERE
.
I've been knitting away on my sis's mystery Christmas present, and am almost done. I also managed to squeeze in a pair of mittens for me from Weekend Knitting out of Lion Brand Landscapes. I'm going to knit my SIL a pair as well-- they only took me a little over one night! Just watched The Day After Tomorrow last night-- it was ok-- a good no-brainer movie.
I also got an awesome RAOK from
Therese
of a Sirdar Aran pattern booklet and some Philosopher's Wool-- thanks Therese!
And I'm VERY happy to report that Marzi has not had an accident in the house for 2 1/2 days now (except in her crate when I'm at work, which she can't help)! I'm knocking on wood really hard that she's trained!