All my ornaments are finished! I'm so relieved to have them done.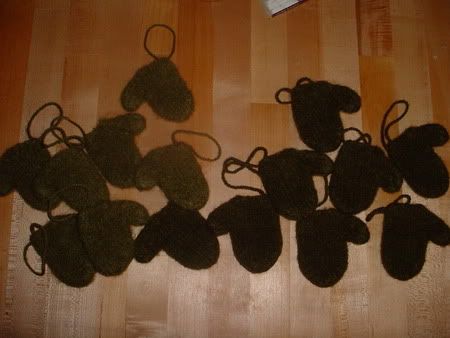 I cast on for the Men's Cashmere scarf out of Last Minute Knitted Gifts last night for my dad. It's already had 2 trips to the frogpond, as I realized the pattern is incorrect in the book and had to look up the errata online. The first time I frogged, I said "Goodbye" to my knitting out loud while Jason was watching a movie and I told him it was making a trip to the frogpond, which led to an explanation of the whole "frogging" and "rip it rip it" connection. So, when I said, "Goodbye" again, he turned to me and said, "Another trip to the frogpond?" teehee I'm using Highland Wool, and am almost done with the first ball.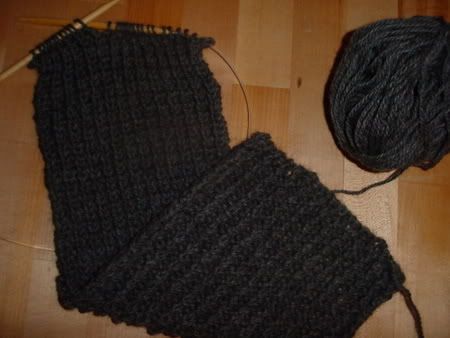 I know it's hard to tell in the picture, but I have it flipped up so you can see both sides of the fabric. I'm using a nice charcoal grey.
For anyone who's interested, I listed
Hollywood Knits Style
, along with
Little Earthquakes
and
The South Beach Diet Cookbook
. Just click on My Auctions on the left side of the screen to see :)
And finally, here is a picture of part of my current stash. I'm posting it kind of as a reminder that I need to go through and organize it!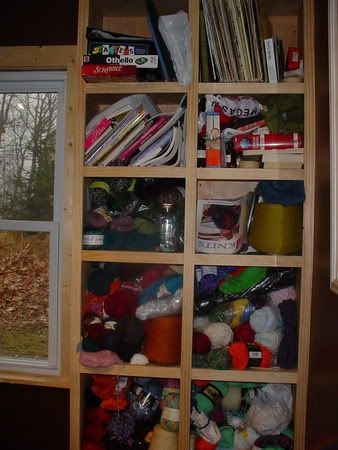 Not pictured is a basketfull of other yarn, 3 bags of Elann yarn and the few odd balls that came today from Joann's (to make some cotton dishcloths for SIL for Christmas).