Oh my Lord oh my Lord oh my Lord
I just received one VERY awesome SP2 gift from my super-sweet, very generous pal
Christina
. Thank you SO much Christina! I promise to go into more details and give you a fabulous picture later, but I have other news first, and I want to be able to devote an entire post to my incredible gift :)
Way back when (before I started blogging), we bought a 1961 Lincoln. It didn't run, and we couldn't do any work to it, and we eventually were forced to sell it so we could afford our wedding, and this house.
Well, a few months ago, another Lincoln showed up for sale. We had NO money. Dh and I were heartbroken. He wrote the following "essay" about it.
" A glimpse into what I can now call torture. The time was two years ago....My lovely wife drove by a car which happened to be a 1961 Lincoln continental. Mind you its a hard top model, four door with two suicide rear doors. My dream car, which some might question, but every man has his own desire for different flavors of steel formed into variations of shape. So at any rate, I first was turned onto the car in one of my favorite movies, as much as I hate to admit it but; as seen in the 1st
Matrix movie a 1964 Lincoln Continental Black hardtop Mint condition, awesome car with a cult attraction and gangster thrill to it. Not so much a Pulp fiction car but more of a sled that can coast down the freeway on a venture to the west, arm slung over the steering wheel, rolling to the beat of the pavement junctions. But that's for another story...So I bought the 1961 Lincoln as soon as I saw it; I couldn't write the check fast enough. Seeing that it was in non running condition it was only about $1,200-- not a bad deal for a kid who just got outa school. Well as life I think will do this I came to a cross roads and had to sell the car to buy my first house with my new wife. So as priorities shifted I kissed the car good bye and said I would always find another. Then the torture begins, a year goes by and occasionally during the remodel of our new house I check in on eBay to see how the Lincoln selling scene is doing; I am blown outta the water when I see the price for these cars has nearly tripled, not to mention the cars are located on the pacific, a long haul to the motor city. So I plod along planning on winning the lotto and earning the greenbacks to bring
her home. One day while driving to work I see her, sitting in the front yard of a house that has just recently changed hands, forged in 1964, a very nice vintage, my favorite year, the steel was just right and the paint couldn't be a better blue. The car sits for months, almost eight to be
exact, I am tortured by driving by it every day to and from work. Then one day she is gone, I am somewhat angered but more relieved as I did not have to see it sold and auctioned like a herd of cattle. Relieved that I must not decide on the garage work shop I have been saving for or for my beloved friend. I drive by again on the way home from work, she's back, with the notorious orange and black for sale sign, prompting me to cross two lanes of traffic and begin the agony. Now please note that I have been telling my wife for eight months that with my luck it will be up for sale at the worst possible time financially, right before I make the payment for the garage and order the material. So I stop, I don't know why but I just couldn't let it go. I walk up intentionally not looking at the sign, I think subconsciously I wanted to love it and know the price after falling in love. I feel the chrome, look into her insides, walk around and discover the exhaust just how I would have done it. Find her imperfections and look at the price. Just to torture me of course it would be $1,000 less than what its going to cost for my garage. I close my eyes, get back into the Jeep and drive home heart broken...."
Well, a few weeks later (now), we have convinced MIL to "loan" us the money. Here she is: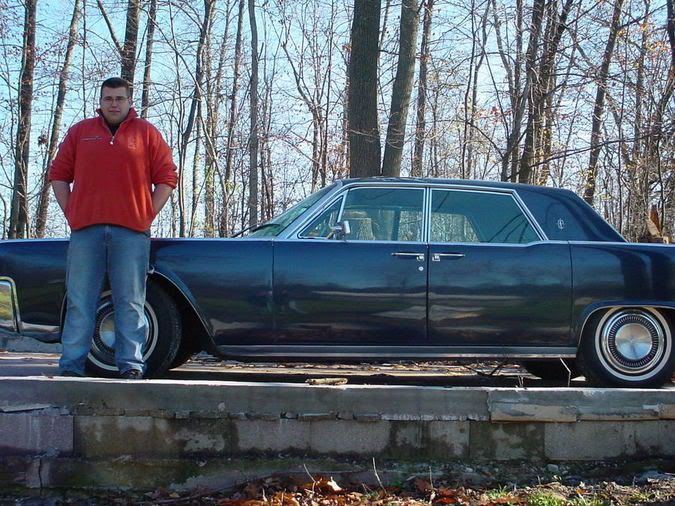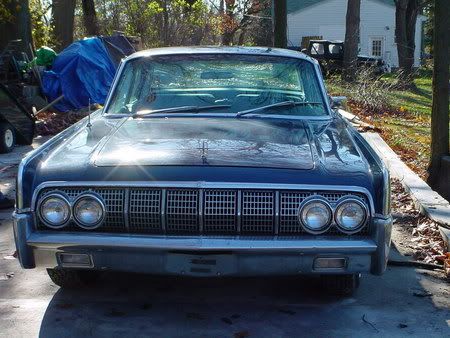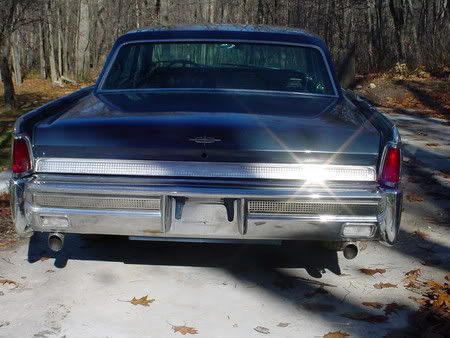 I'm so excited! It actually runs-- it needs some work, but we can go on the
Woodward Dream Cruise
in it!
In knitting news, I just finished this drop stitch scarf: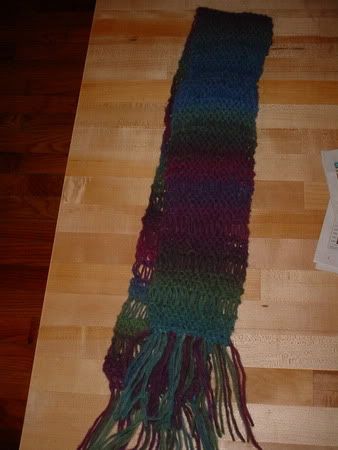 It's my first attempt at fringe, and I like it, although it's definitely not perfect. Not sure who I'll give it to, but it's destined to be a Christmas gift.
I also have started another drop stitch scarf out of this yarn:
Don't recognize it? Take a look at the second picture:
Shocked? I know, I know, I normally wouldn't really touch red heart with a ten foot pole, but it's actually not that bad, and I liked the colors. Plus, I just wanted to buy yarn the other day, you know? LOL
I also cast on for another pair of Super Mittens out of Landscapes.