I took down all the Christmas decorations today. It's amazing how fast Christmas seems to come and go when you're an adult. When I was a kid, it seemed soooo slowwwwww, and now it rushes upon me and then flies away.
Before I took the tree down, though, I snapped a couple pictures of my favorite ornaments. Here are two noteworthy ones ( silly me, didn't think to take pictures until I had almost completely undressed the tree so they're not THAT special). Here is my moose ornament. I love moose! It's a whole bunch of moose heads together like a wreath if you can't tell. It's made of pewter.
And here is a frog ornament that SIL attached to one of my presents. I really like the glass ornaments; I never used to.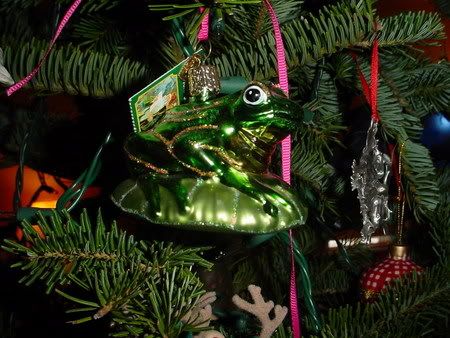 I received so many wonderful things for Christmas. My parents got us an electric dog fence for Marzi, I received two ball winders (yep, there was a miscommunication, so with my mom's permission--as she purchased it online-- I just listed one of them on Ebay for a song--click on the link in my left sidebar), some yarn from my sis and MIL, a pilates mat from Jason, and so many other fantastic gifts. Here is the teapot and matching mugs Jason got me:
These dish towels were embroidered by Jason's grandmother. She's still working on the rest of the week. Aren't they beautiful?!
Here's a closeup of one:
Here is the bookshelf that Jason made on Christmas Eve. We had such a hard time getting it up the stairs. All his tools and woodworking things are down in the basement, and we had to take out 3 stairs and part of the wall to get it upstairs! There was a little swearing going on. LOL He also made me a wooden soap mold that I need to try out soon!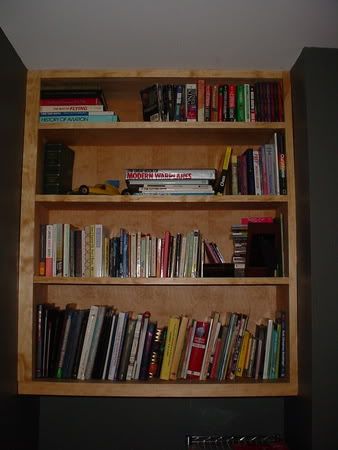 My mom gave me a small, but sentimental gift. She gave me a small fruitcake, by the Claxton Fruitcake company.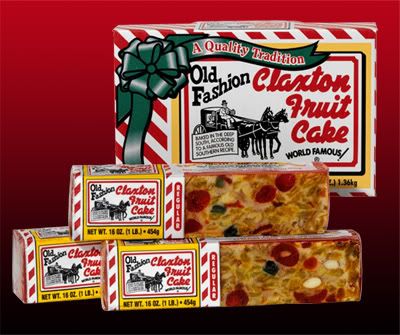 Every year for Christmas, my Grandma made a fruitcake and gave one to each family (she had 6 children). They were delicious and wonderfully moist. It wasn't Christmas without her fruitcake! Well, Grandma passed away in June of this year, so there wasn't any fruitcake this Christmas. This fruitcake actually tastes a lot like her's, but it's not as moist. She soaked a thin towel in some kind of alcohol (rum? whisky? She's known for her love of Jim Beam, but I don't think she used that) and wrapped each fruitcake in it. It was strange not having her and her fruitcake (and Jim Beam!) around for Christmas this year, but I think I may be seriously addicted to this Claxton Fruitcake now.
In knitting news, I cast on for the Here and There Cables scarf from Scarf Style. I'm using Mountain Colors Weavers Wool in Spruce. I really like how it's coming out. Here's a progress pic: (I posted more over on the Scarf Style Knitalong blog)