Alas I return, and I have no pictures of knitting. So sorry! I do, however, have pictures of Marzi and our snowfall this weekend. We got more than a foot of snow Saturday morning, and Marzi had the best time playing in the snow. She runs around and hops like a bunny through the snow drifts-- it's so cute. Look at how much she's grown, too!
I don't know why her eyes are closed in this picture, but she still looks cute: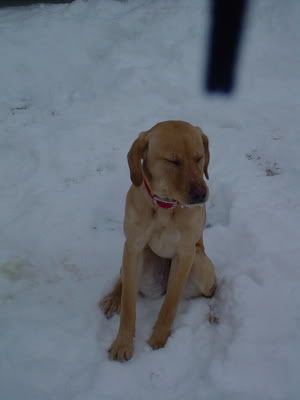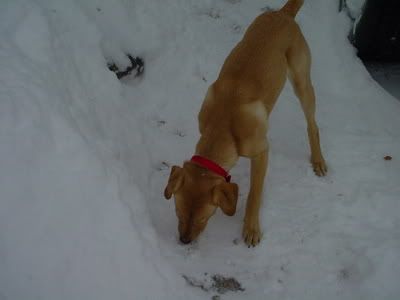 Here is a picture of the Lincoln with snow on it, so you can see just how much we got. I can't wait until Jason gets the garage built this spring, so we can garage it in the winter.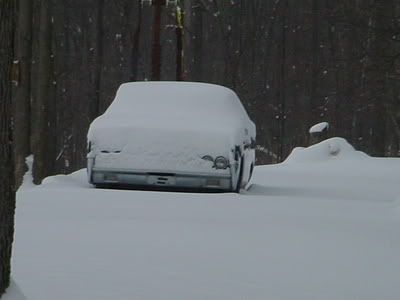 And here's a picture of the front of the house. You can't really tell how much snow we got from the picture, but I never posted a picture of all the stone work Jason did to the front. We're really happy with how it turned out. It will look even better when we get it sided, too-- it needs it. We've powerwashed, but you can still see where the old shutters were.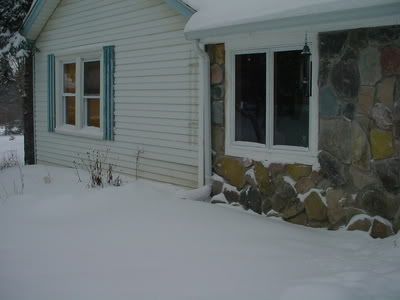 I'm almost done with Section 2 of Clapotis. I can't wait to start dropping stitches! It looks really nice so far. I'm using the yarn I bought from
http://www.handpaintedyarn.com
. It's so soft. I had to make some more stitch markers this morning, because I ran out it takes so many!
In other news, I colored my hair today. I'll have to take a picture soonly, but it's a little streaky right now. I should have bought 2 boxes of hairdye instead of just one; I'll have to touch it up in a few weeks. I actually dyed it black. I'm unsure if I like it or not. It's not a burghandy or blue-black, so it's nice, I just don't know if it's me. KWIM?
I leave you with a link to a clip from a children's TV show from the 70s. This actually aired on TV. Yes, it's a children's show, but you might not want to click with your kids around. Don't read the script at the bottom until you view it.
http://rainbow.arch.scriptmania.com/rainbow_tv_episode.html