This post is all wonky because I sent it through photobucket's new blogging tool. Won't be doing that again!
We are all alive. Jason is feeling MUCH better, and I never
really came down with it as bad as he had it. I was only a touch
sick compared to him. I did get a lot of knitting done yesterday
vegging on the couch. I got through almost all of Season 1 of Sex
and the City (I'm rewatching it; I saw it the first time around), and
Jason and I watched The Grudge yesterday morning, and Secret Window
last night. Both were just ok.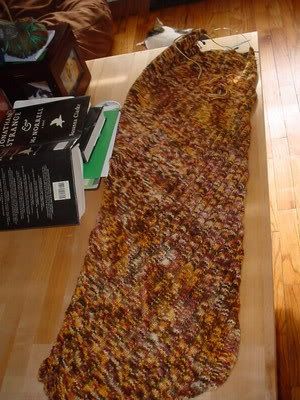 Here is my status on Clapotis. I'm three repeats in on Section
4. I did 11 repeats of section 3 instead of 12, and can you see
at the top how much yarn I have left of the three skeins I started
with? CLEARLY, not enough, so I've emailed the seller and he's
sending me another skein. I've decided that this doesn't break my
yarn diet, as it's obviously needed to finish this project. I
don't think I'd even have had enough if I'd done only 10 repeats of
section 3.
Marzi actually didn't end up popping one of her sutures out, Jason
thought she had. She HAS been jumping around too much though--
the area was irritated and; a little swollen, which made it look
as though one of her staples was coming out. So, she will be
spending the majority of her time for the next few days in here: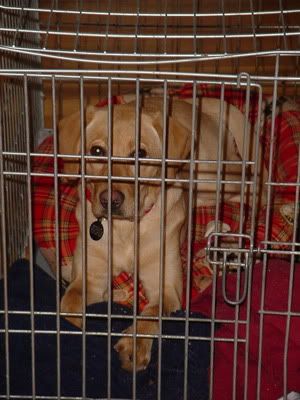 I hate putting her in her puppy prison, but it's for her own good. She's not super happy about it, but I went and bought her lots of treats yesterday to occupy her time. She actually sleeps most of the time in there. When she's not in there, we have her in the entryway so she can move around, and we're making sure to give her lots of leash-walks in and out of the house.
I keep finding myself drawn to buttons. Does anyone else just love buttons? When we were down visiting my parents over the holidays, we stopped at a few antique stores, and one had jars and jars and bags and bags of buttons. Oh how I wished I had enough cash to buy all of them! I did buy a bag of them, but seeing my half
empty jar, it makes me want to buy more. I love the old ones, and just thinking about the clothes they were once attached to is so neat. What were the people like who wore those clothes, I wonder. Of course, they could be from another button collector
ho bought them all new, but that's not as much fun to think about So here is a picture of my current collection: