Happy Flash Your Stash Day!
Warning: I did not tidy up any of my stash, so prepare yourself! I only joined up yesterday :)
First up, we have pictures of all the cubbies in my wall unit that Jason built me for our study. He built it specifically for MY YARN, isn't he the best? I have my own mini yarn store.
Here is all my disorganized magazines and a few knitting books (the rest are in the built in bookcase he made in the dining room):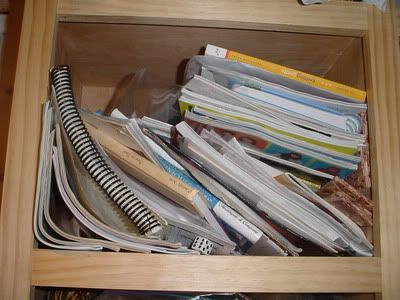 Here is the next cubby down. It is my yummy wool cubby. It contains my Mountain Colors Weavers Wool, some Manos, Peruvian Wool, some handspun llama blend from someone on the RAOK list, and some Lamb's Pride. There's also half a ball of my Handpaintedyarn.com yarn leftover from Clapotis.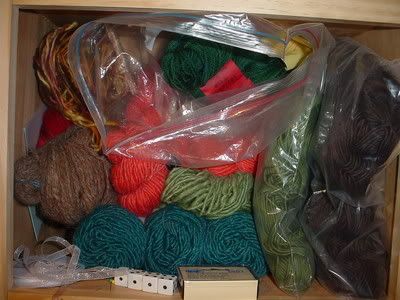 This is my oddball cubby. It contains leftover random balls (mostly wool) and a few thriftstore yarn finds. The paperbag has leftover feltable wool for felted bags. The pink variegated yarn in front and to the far left is koolaid dyed fisherman's wool. I made a pair of mittens from it; one of my first projects.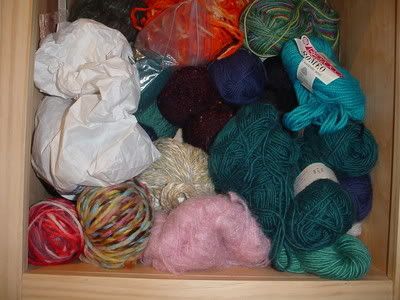 Then we have my sockyarn cubby (when it's organized). Right now it also contains some Plymouth Stone cotton to make a Chickami or other tank with and some dark pink yarn my MIL gifted me from her stash. Doesn't look like much sock yarn, does it? You'll find out where the rest of my sock yarn is in a moment.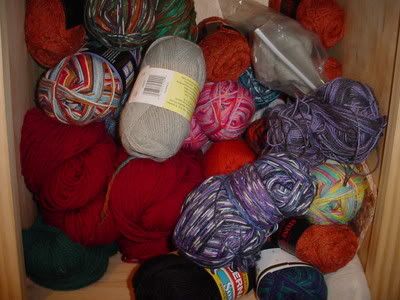 Then we have my cotton cubby. Here you'll find some Cotton Ease for a Sitcom Chic in my future, as well as enough of 3 different types of yarn to make another Chickami. In front of that, in the Tyvec bags-- no time to peek, you'll find some hidden sock yarn-- some Regia and Lana Grossa. On a side note, I love Tyvec envys-- my dad used to work for a company that made them.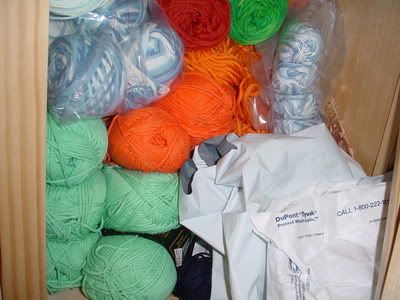 Above that, you'll find another yummy wool cubby. Here are some skeins of Peruvian Wool that I'm using for the Hourglass sweater (nope, still haven't finished it yet), some handspun from my MIL that I'm nervous to pick a project for (it has bits of fur from their old bunny in it! oh the pressure), a hank of Koigu that I won in
Freddy Knits
contest, some Hemp/Wool blend that was going to become a poncho, but I'm kind of over them, and some other random bits.
Then we have the basket of doom. The bottom of this basket is filled with acrylic that will become animal blankets for charity when I feel the urge, and somehow, all this other yarn starting falling into the basket (imagine that!). Here is the amazing Tussah Silk/wool blend from my SP, some random cotton yarns, 3 skeins of Elann's Sock it to Me Esprit for either Socks or a tank sweater, some Filaturi 501 from a RAOK, and even hiding under there is some Noro from my last SP. My swift and ballwinder are also back there.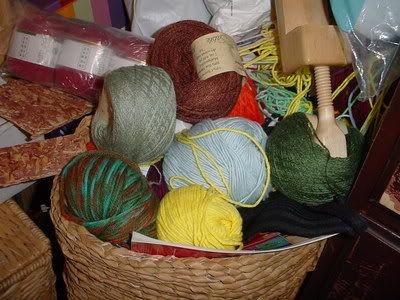 Now, please follow me to the living room where we'll find my other yarn
hoarding
erm storage basket. This has become my "nesting" corner, as Jason calls it. In here you will find magazines, books, my beads and other tools to make stitch markers, random odd balls of leftover yarn, really it's just the black hole for everything knitting related. Hourglass is hiding in here, sulking, as well. She's pissed that she's been left, half knit, for SOCKS. I mean, come on, they go on your icky FEET. Oh well, she can deal.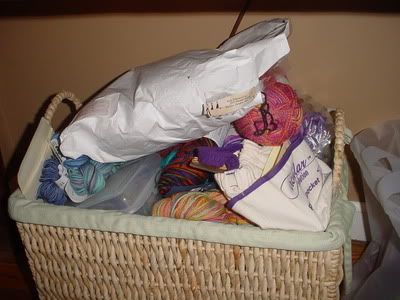 Here, however, is what is taking up most of the room in this basket. Remember my sock yarn cubby's lack of sock yarn. Yes, there was probably enough yarn in there for 9 or so pair of socks, but take a look at what was hiding in the basket.
Crazy, yes?
Well, there you have it. I flashed my stash. Now, will you let me know when you flash yours? Cause, you know, a gal can never have too much yarn! And I just might see something that I just have to go out and buy.