ARRRRRRRRRRRRG I just had a huge post typed up and then my computer decided to turn itself off. GRRRR
Tempting is almost done, I just need to weave in the ends and get a ribbon for it. I think I'm going to go with a wide non-glossy black one. I finished up the underarms while watching House last night (I'm such a tv junkie).
Since that project is nearly finished, I found myself trying to figure out what project to cast on for next. Well, I stumbled upon the
Mystery Stole Along
this morning and immediately joined. The premise is that you don't know exactly what you're knitting (it's a stole) and the instructions are given out as "clues" once a week for 5 weeks. It actually started last Friday, but I'm going to try to catch up over this weekend. A new clue comes out tomorrow. I'm going to use the Zephyr that my fabulous last SP,
Rox
, gifted me. If you haven't checked out her blog yet (she's the host for SP5), then you must immediately! We have so much in common, it's almost scary. Although she doesn't like my choice of pizza toppings (green peppers, mushrooms, olives, tomatoes and onions), or my penchant for Black Bean Noodles (which were delicious by the way, especially with hot sauce), she's still a chica muy fresca.
In gardening news, I'm actually using some of my herbs in a few things. I started up some of this:
It's chive vinegar. I used half plain white vinegar and half white wine vinegar, and of course the chive blossoms. It needs to sit in the sun for a few days, and then I'll strain it and put it in a pretty bottle. The vinegar should turn pink from the blossoms :) It's going to be delicious over salad, and I'm thinking tomatoes, as well!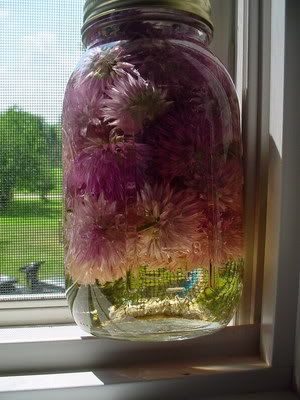 I also froze a ton of lemon balm (it's supposed to be really good in iced tea and other drinks), and I also made this: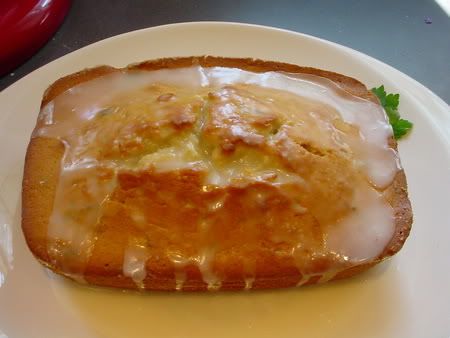 It's Lemon Herb Tea Bread. I found the recipe at
Gardenweb
.
Right after taking the pic, I cut myself a slice and it's delicious! Yum yum; definitely a keeper!