I'm still plugging away at my Chickami the 3rd. I'm a few inches away from dividing the front and back, and can I just say again how much I love the Knitpicks Shine yarn? Yummy!! It's so deliciously soft. I hope to get some more work done on it today; I have to call the doctor's office when they open and I'm crossing my fingers I can get in today. If not, I'll have to go to the ER. I'm having problems with my foot, so while I'm waiting in the doctor's office, I'm going to knit.
For lack of any outdoor gardening or knitting pictures, I'm going to take you on a tour of my indoor plants. I bought a few the other day, and I got the urge to repot all of my other ones yesterday, so they were ready for some pictures. Here are my hens and little chicks (also known as sempervivum). I love hens and chicks and think it's so cute how they lay their little chicks. It's terribly sad that they die after flowering though (but it only happens when they're 3-4 years old).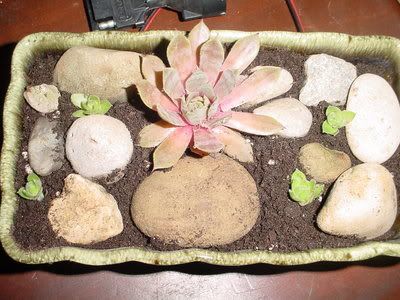 Here is my aloe plant in a pot Jason made:
Some more aloe babies in the kitchen (I just divided all these up yesterday):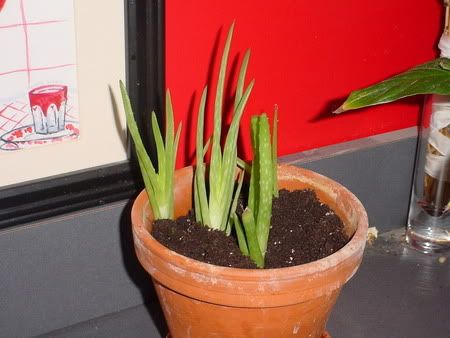 My peace lily, a jade plant and a couple little aloe babies I'm going to give my sister:
A jade plant I just pruned. I want it to get bushier.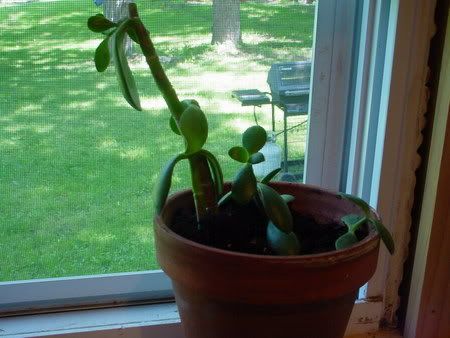 A rubber plant I just moved so it will get more sun. It's too leggy. I also made the stupid mistake of repotting it as soon as I got it. I didn't know then they like to be rootbound.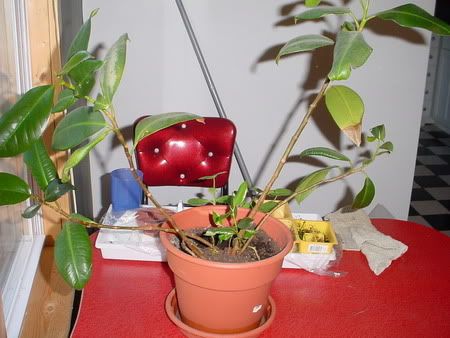 Here is a coffee plant I just bought at Kroger for $1.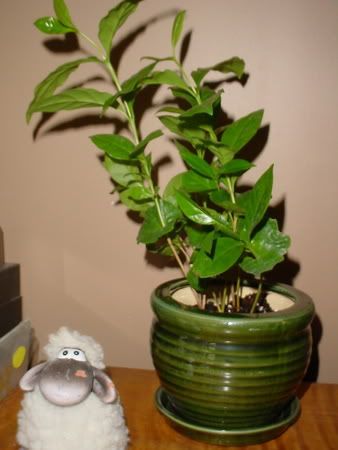 Here are 2 tropicals I also picked up at Kroger for $1 each. The one is front is a prayer plant, and I'm not sure what the one in back is: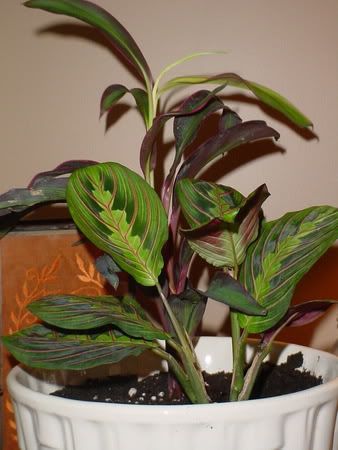 I really want a dwarf banana plant. I used to have one, but Marzi ATE it not long after we adopted her. She knows not to touch my plants now.
And Marzi was jealous of all the picture taking, so here she is, sitting pretty in our new bedroom.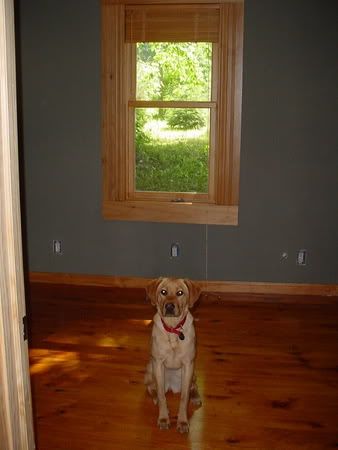 The bedroom is finished except for the little things like putting on the outlet covers! We're going to move into it this weekend :)
Last night we went over to MIL's house and she let me dig up a few things from her garden. I planted some cone flowers, a small Bleeding Heart, some onions, a sea pink and a few more hens and chicks.