I'm bored with way too much stuff to do. Is that an oxymoron? Probably. I have 3 laundry baskets full of clothes to fold and put away, dinner to get started on, gardening to do and I don't want to do any of it. Blah. I'm actually off work today and I just want to sit and veg. I'm done with my mailroom job-- Halelujah! but I end up working at the same company this Thursday through next Friday as the receptionist. Ick. And. No. Computer. YIKES! How will I survive???? I'm not sure if they'll be kosher with knitting or not, but I'll try to cast on for a small-ish project by then. I checked a bunch of books out at the library today to hopefully tide me over. Problem is, I'll probably have most of them read by Thursday. I just started Knit One, Kill Two yesterday. It's ok, but I am enjoying the snippets of knitting throughout.
Hmm the new
knitty
is out of course, I'm sure you know. I didn't expect much considering it's a guy issue and Jason doesn't like many knits, so I wasn't suprised when I found nothing I like. Jason did surprise me however, in my half asleep stupor this morning by saying, "Hey, you know that grey yarn you're using? [Knitpicks Shine for my Chickami the 3rd] I'd wear a sweater knit out of that." Go figure! Imagine an XXL sweater knit out of dk cotton yarn. It will take me freaking forever! But he is my hubby and I do love him. Anyone know of a pattern for light dk weight yarn knit in the round for a man's XXL?
Anywho, not much happening on the knitting front. Been working lots and don't feel like doing much of anything except zoning out in front of the tv when I get home. I did end up ordering a pair of Denises on Ebay, so I still have my $50 Webs GC to spend... I'm thinking maybe a bag of Jo Sharp Desert Garden?
Garden news:
My coneflowers have started to bloom!
My zucchini plants are looking good, and they should begin fruiting in a few days.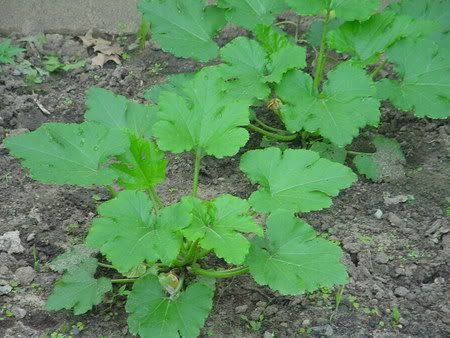 My morning glories are vining well on the icky shutters. No blooms yet, but hopefully soon!
You can see the other side in this pic, and if you look closely you can see my gnome hiding back there :):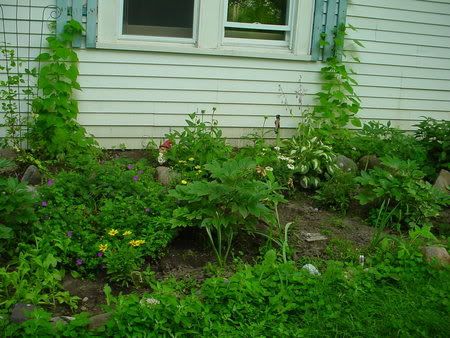 (Jason needs to weedwhip around my rocks!)
It's been a scorcher here the past few days. Because of that, I leave you with my no-bake, great for summer days, easy, cheap pie recipe.
Strawberry Dacquiri Pie
1 Graham cracker crust
1 8 oz tub cool whip
1 small can Eagle Brand condensed milk
1 can Bacardi Strawberry Dacquiri frozen concentrate (or pink lemondade concentrate, or Bacardi Pina Colada or Limeade)
Mix Cool Whip, Milk & juice concentrate together until well blended. Pour into pie crust freeze overnight or until set.