Still hanging in there. Houseguest still here. Things are going ok in that regard, but I haven't seen much of Jason this week. Hrmm.
We do have another houseguest though. Her name is Roo: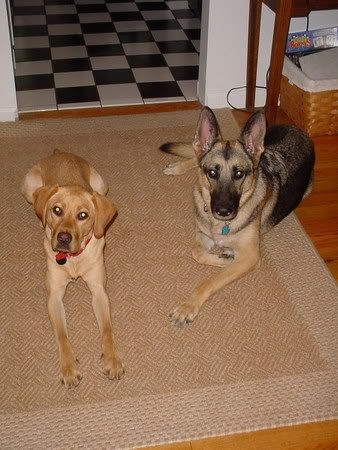 She is an absolute sweetheart and is very well behaved. Marzi isn't such a good influence on her though! The first day or so there were a couple power struggles, but they seem to be getting along great now.
So... I've figured out that when Jason is not home very often, I end up buying things. What do I mostly buy? Well, yarn of course! Good thing I got a nice paycheck this week. Here are my recent stash additions.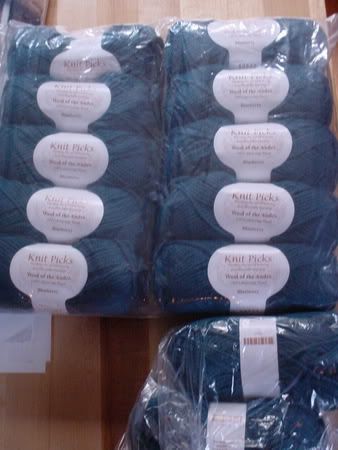 12 skeins of Knitpicks Wool of the Andes in Blueberry. The color is a little different than I expected, but I plan on making some kind of pullover with it. I had posted to Knitters Review and Knitting LJ asking for a comparison between the Wool of the Andes and Elann's Highland Wool (they just got new colors in!), and didn't get much response, so I plan on writing up a review comparing the two when I get a chance to work with it. If you remember, I knit
this
with the Highland Wool and was pleased with my results. (p.s. See how long my hair was there Rox?)
I also picked up this: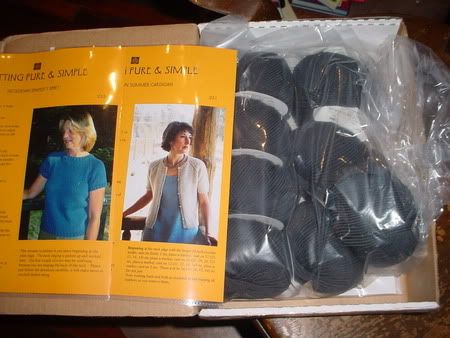 8 skeins of Online Linie Marly in Slate and 2 Knitting Pure and Simple patterns from Elann. I LOVE that they're both knit in the round!
And THEN someone just had to post on Knitters Review that Handpainted Yarn is closing out their Thick/Thin Bulky Weight, so I bought 5 skeins of this: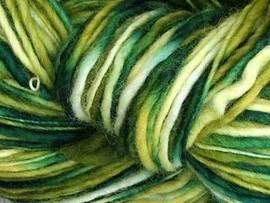 I'm hoping to knit something out of Loop d Loop with it. Perhaps the Asymmetrical Vest/Tank? I'm hoping I can get close to gauge.
I didn't JUST buy yarn though. I also bought this really cool wallet:
It was only $6.99 and I've always wanted a Magic Wallet. Teehee I'm so silly.
I have done a little knitting this week. I started
this sweater pattern
. I started with too small of needles, so I had to rip out the first sleeve-- here's my progress after reknitting:
Pay no attention to the hole; it's just where I had to change skeins. I'm using a bag of Elann's Peruvian Wool-- it's the single ply from the full bag sale they had last year. I originally was going to make it all green, but I only have one bag in green and don't think my yardage would make it, so I'm giving it brown stripes. Not sure if I like the color combo, but eh what's a girl to do?