Well, as I suspected, the job sucks. Being a temp just isn't so much fun. No one really bothers to get to know you, because eventually you'll be leaving, so you eat lunch alone, and aren't involved in any office gossip or conversations; you don't learn the "more fun" things since they don't have to give you those things to do, since they don't have to make you happy since you'll be leaving anyway. I'm filling in on a pregnancy leave and the woman hasn't even left yet, so I'll be stuck here for a while unfortunately. The only real enjoyment is I get to pretend I'm a real office professional and wear cute office attire. Today I'm wearing a skirt (I never wear skirts) and a cute pair of heels. Sigh. My usual teacher outfits consist of khaki pants and a sweater.
I haven't been able to do much knitting, but I am this far on the Raglan sweater: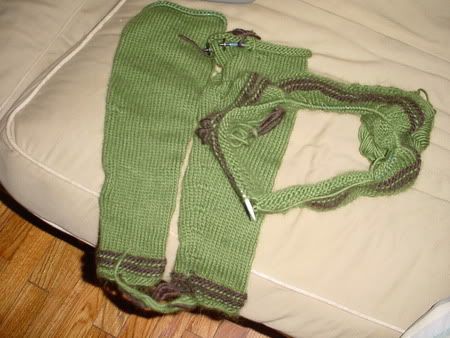 The sweater is nice and basic, I just wish I had more time to knit it.
Jason's garage project is coming along. Here's what they finished over the weekend:
He's thinking he may hire someone to do the roof, but we're not sure yet.
Looking forward to the new edition of
Magknits
. It's supposed to come out tomorrow! I also signed up for
Secret Pal 6
, so I'm looking forward to that. We're a tad more stable money wise this time around-- I had hoped to sign up for SP5, but we were pretty tight and I couldn't.
In sad knitting-related news, I just read on
KR
that Crystal, one of the owners of
Copper Moose
just passed away. I bought a drop spindle and some fiber from them about a year or two ago (they also sell on Ebay) that are just gorgeous, and that was sad news to read. Right now Bill (her husband) plans on keeping the business going, but that's got to be so tough.
I posted a little trade post on Knitter's Review the other day, so if you're interested in swapping with me
click here
. I'm hoping to trade some yarn for books or patterns.
I leave you with a picture of the animals, taken this weekend. I had forgotten that my camera takes black and white pics (as well as sepia), so I had a little fun playing around this weekend. Here's Marzi:
And here's Patches.
Yum, he says.