Candy
Look what Jason was able to score for me!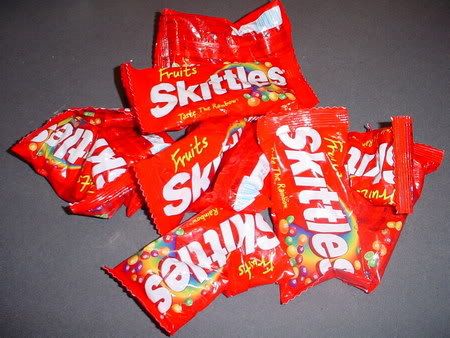 They're Skittles from England. Skittles from the US are made with gelatin, which I choose not to eat (I'm a vegetarian), but Skittles from England aren't made with gelatin. Starburst aren't either and they both have a different flavor of Blackcurrent (instead of grape for the skittles and instead of cherry for starburst). I haven't had Skittles in a long time! Yum yum yum. I love candy from other countries, but it's even better when it's something I used to eat all the time (pre-vegetarian) and I get to have it again!
One of Jason's co-workers is moving over from England and Jason saw him at a conference asked him if he'd bring me back some Skittles on his next trip back. Next time he told me he'd get some Starburst (which used to be called Opal Fruits in the UK) ;) He also brought Jason back two bottles of
Spitfire
, which you can't buy in the US anymore.