If you read
my post on KR
, you'd know that I feel as though I haven't been able to squeeze in enough knitting time lately, so I set aside some time the past few nights to just knit. Well, here is where I'm at on the KP&S cardigan: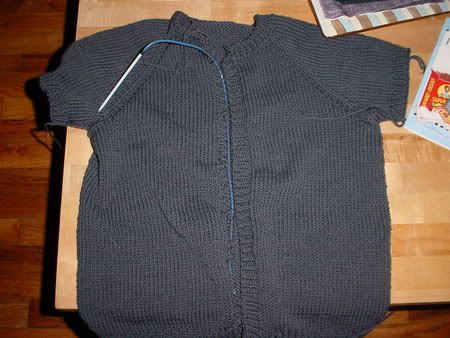 SO close! I worked the button holes last night while Jason watched Las Vegas. He summed up that show pretty well: boobs and gambling. There do seem to be quite a few boob shots; I imagine it would make a pretty good drinking game. Everyone would get plastered!
More about my post on KR... I think I feel frustrated because I don't feel any accomplishment at the job I'm at. There's not much for me to do, I'm treated like I don't have any brains, and I don't get any recognition at all for what I *actually* do. As much as I would love to quit, I know we need the steady pay so we can pay off our (dimishing!) debt and get ahead. I'm just not cut out for office work, I think. I'm meant to be a teacher, but that hasn't worked out. Grr. Enough ranting!
I'm feeling a little bit better, sick-wise. I caught up on 3 episodes of Knitty Gritty over the weekend: the spinning episode, the poncho/rectangle one and the aran show. We don't get DIY, but for some reason we *do* get it On Demand, so I've been checking weekly to see when they'll start showing Knitty Gritty. It's not the best program, but HEY, it's knitting!
Next project is a secret project I can't blog about. I just need to find the pattern for it. I'm thinking about starting Ella, though, too. Or the
Homespun blanket Lolly knitting up recently
(using something from the stash perhaps?). Or maybe one of the projects from the recent Knitty. Or maybe I'll jump on
Boogie's
bandwagon and go for scarves. Oooh choices choices.