Little progress here
I worked today for a Junior High Science teacher. I watched the same video 5 times, The Secret House at 118 Street. Ugh. It was ok, but FIVE times? Oh well, better than working at an office, right? While I sat through the movie 5 times, I discreetly knit a few rounds on the Top-down Raglan (gotta love knitting without looking!). Here's my small progress since my last WIP picture.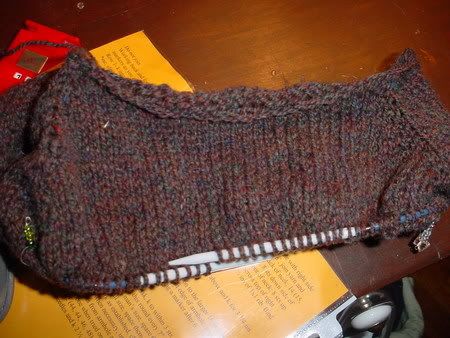 It's still swelteringly hot here. For the past week it's been in the mid-80s. It's *supposed* to cool off tomorrow, though. I really hope it does, as Jason and I are planning a trip to the apple orchard either this weekend or sometime next week. It'll be nice if it's cool enough for sweaters.
In other news, my first SP6 pressie arrived today, and I think I've determined that my sp shops at Target ;)
Here are the goods:
Thank you sp :)
Now off to bake dinner. We've having baked spaghetti, spinach, Texas Toast and cabernet sauvignon. Gotta fuel up to watch Lost. Something good better happen this week; last week's episode was boring.