A quickie
I got my
Sock Scrap Swap
package yesterday, and all I have to say is WOWZA! It was a definite pick-me-up after my bad day yesterday.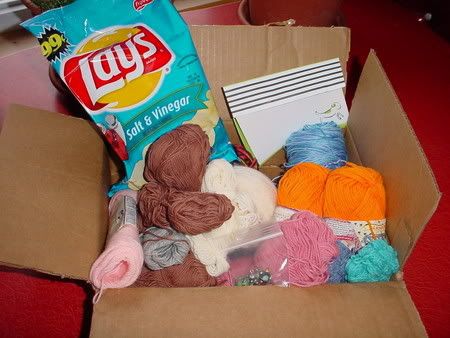 My awesome pal was
KS
, and she sent me lots of sock yarn scraps (of course!), some orange cotton yarn and even my favorite, Salt n Vinegar potato chips! YUM.
In my Socktober news, I've made a bit of progress on my Fiber Fest socks: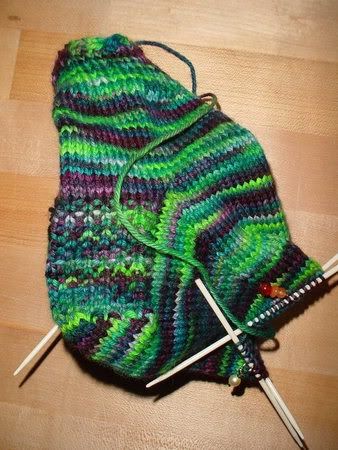 I'm a couple inches away from starting the toe decreases. I love having small feet ;)
Rox
challenged her readers to post a favorite fall or Wedding picture so here is mine. Unfortunately we don't have our wedding pictures on disc, so it's a picture of a picture. I keep this one on the fridge.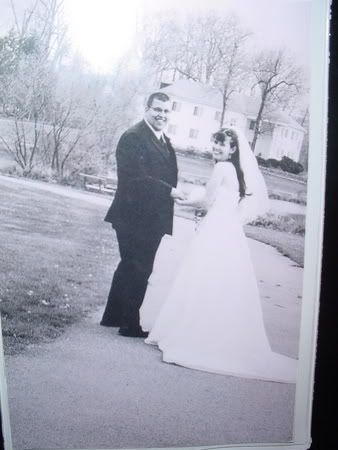 A few people asked how exactly my washer "ate" my supposed-to-be-felted pumpkins. Well, it kind of ripped them apart at their seams and left gaping holes. Does that explain it enough?
And thanks for those of you who shared in my excitement about our England trip in January! It's scheduled for January 10th-20th. We can't wait. I'm a little nervous about taking knitting with me, as I've heard bad things about Northwest flights leaving the UK not allowing knitting on board. Hope that doesn't happen, but I'll be sure to bring a self addressed stamped envelope if that should happen to be the case.