Socktober Progress
Way back in January, I dubbed 2005 to be the Year of the Sock. Well, once I got into late February I was sick of socks and started working on sweaters. I must say, Socktober has convinced me that I'm truly a phase-oriented gal. I go through food phases (my most recent being avocados-- especially sliced up in salad-- YUM), book phases (I have classics phases, chicklit phases, real lit phases, and am currently reading all of the needlecraft mysteries-- as obnoxious as they are), and now we have knitting phases. Obviously, I'm in another sock phase. It's all your fault
Lolly
! My poor oversized raglan sweater is still sitting in my knitting bag, nary a stitch knit in weeks, my green and brown striped raglan is still waiting for a few lone ends to be woven in, and all I can think about are socks. Sock yarn, sock patterns, socks, socks, socks.
Here is my latest finished sock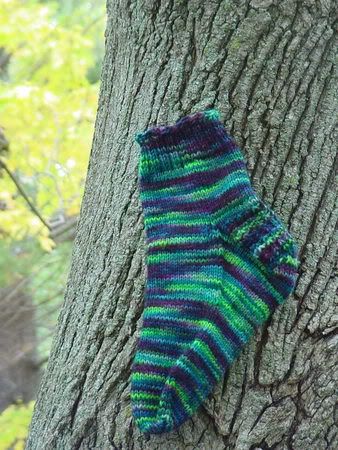 I'm really happy with how this yarn knit up! I had to frog everything back Thursday night after almost starting the heel flap, as it was turning out to big on 65 stitches and there was significant pooling, so I cut it back to 54 and it's perfect!
I also have other exciting news. Jason and I have been thinking about taking a vacation. We haven't yet done the whole stay-in-a-hotel-vacation-thing unless you count our mini-Honeymoon (2 nights in Windsor, Ontario), we've only really gone on camping vacations. So, he has a couple business trips to go on the next few months, and we were going to plan one around his trip to Florida in November. However, he was booking his plane tickets for another trip in January and got seats for $500 round trip so he called me and told me we're going to
ENGLAND!
I've never even been on an airplane, let alone a foreign country (besides Canada)!! I'm so freaking excited; something better not mess up our plans between now and then. I've already started a list of things I must buy. Vegetarian Skittles and Starburst top the list, and of course
Debbie Bliss
and
Rowan
. I'll be sure to ask for lots of recommendations when it gets closer to our actual trip ;) We plan on at least hitting London and Stratford upon Avon.