We have a Sock(tober)!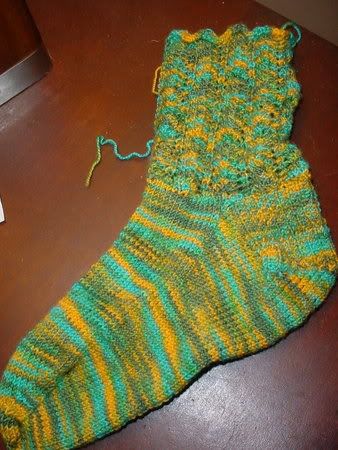 Once upon a time, I read on
Boogie's blog
, that in order to avoid the sock curse, you must, I repeat,
must
, cast on for the match immediately after kitchenering the first sock in a pair. So, I did just that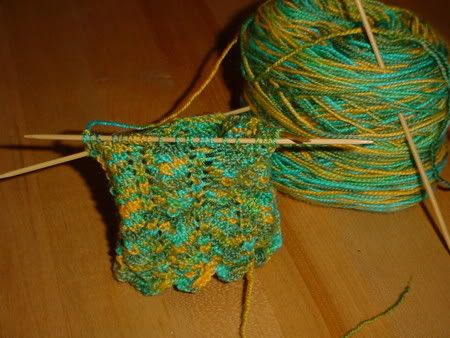 I don't know if that whole sock curse avoiding works out or not, because here's a lonely sock that's been in my knitting basket for months awaiting kitchenering
and
it's mate. How sad he looks. (Yes, I've determined the sock is male, although he does fit
my
foot... hmmm)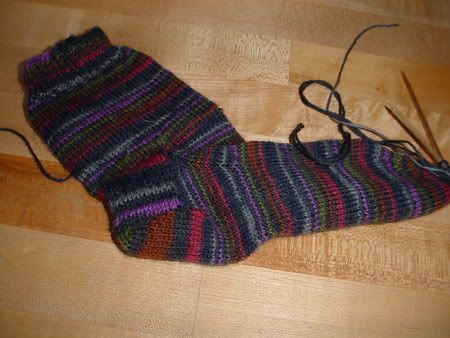 I've been watching Desperate Housewives, Season one on DVD courtesy of Blockbuster Online, so I've plenty of knitting time the past few days ;) I just finished Disc 3. Unfortunately for my knitting, we have a wedding to go to tomorrow, so it doesn't look like too much knitting will get done this weekend, and I work all next week, so hopefully I'll get some knitting time in on Sunday perhaps. I've already been thinking about my next pair of socks...
Well MIL is coming over tonight, so I have a bit of cleaning to attend to first. Jason better get his butt home soon!