Well, since I joined

, I decided it was time to sort through my pattern pile to find the *perfect* sock pattern. Then I decided it was time to organize that basket full of WIPs and crud that was my knitting basket, because, well, I tend to get sidetracked. So, after I untangled the mess of cotton yarn from a rug I was working on a few months back, random ball labels and other crud, I set out to determine what my Socktoberfest socks would be.
So I rooted around and got all my recent magazines out and labeled sock patterns, found my sock pattern binder, assembled all my sock books, and decided.
What did I decide? That I'd knit the pattern I picked out before I had even began. Ugh I'm such a stinker. I'm going to use the Razor Shell pattern I posted about before. I still haven't completely determined which yarn I'm going to use, but I think I'll use new yarn from the Fiber Fest. Thanks for the recommendation Lolly ;) It's just calling my name!
Jason and I took vacation days today to visit the apple orchard. A big mistake. Yesterday was sunny, cool and just plain gorgeous. Today we woke up to drizzle and clouds, but we were still determined to hit the orchard for our yearly trek to pick your own apples. Little did we know, the forces were against us. Turns out the couple cool nights we've had forced the orchard to pick all the apples from the trees, so we had to make do with buying our apples at their little market, rather than walking around to pick our own :( Bummer. We still got a little haul though: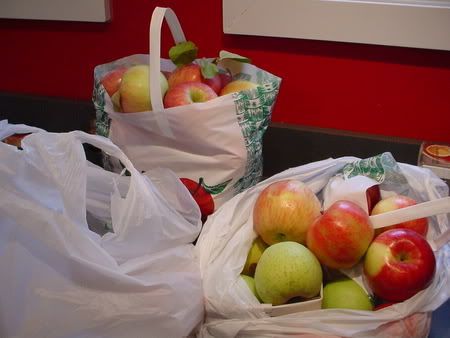 The bag next to the apples is full of homegrown popcorn kernals (way better than store bought) and there's apple cider chilling in the fridge :) Jason made two absolutely delicious pies last year, so the big bag in the back is waiting for him!
No knitting progress to show, because I've been working on my Secret Elf project, but I promise to cast on for Socktoberfest soon.