A Quickie Before Work
The past few days, I've set aside my brown knitting (although thank you all who left me compliments on it!), and cast on for some new shiny projects. Ok, maybe not so shiny, but still new and non-brown. I like brown as much as the next guy, but the repetition was getting to me.
First up, we have my newest FO: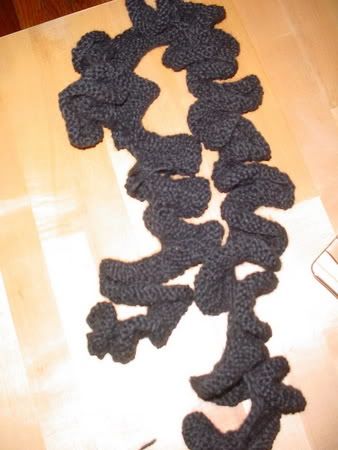 It's the ruffley scarf from Handknit Holidays. I used Elann's Peruvian 100% alpaca, and it's so soft. The problem, however, was that I
thought
I had 3 skeins of the yarn, and got halfway through and realized I only could find two, so I had to skip the last increase section, and it turned out not much different from my other
ruffley scarf
I knit before. I pulled half the yarn out of my yarn shelf looking for the missing ball and still couldn't find it. Well, what did I find yesterday? Yep, the lonely ball of alpaca. Grrrr!!! The scarf is super-soft though and decadent. It's going to be gifted, so it went right back into my basket so I'm not tempted to wear it myself.
I managed to complete a few more FOs yesterday as well.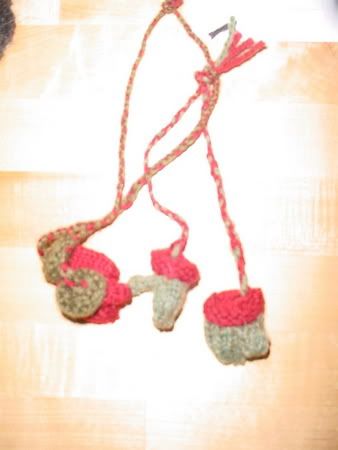 Sorry the picture sucks; my camera batteries were about to die and it's dark in the living room.
I joined a couple ornament swaps, and I'm thinking these would be perfect! They turned out so adorable (and MUCH cuter in person). I used
this
great, easy to follow pattern.
I also cast on for a new pair of socks. These will be for my brother. He only wears tiny ankle socks, and they're in his school colors; he goes to
Miami University
.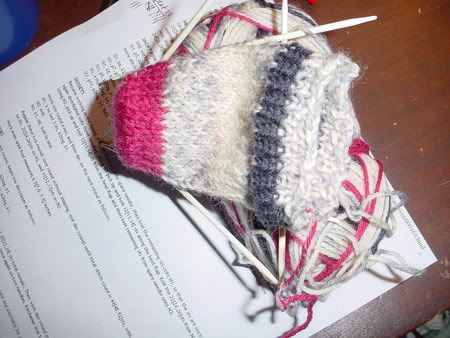 They're working up fast on size 2 needles with the Knitpicks Parade yarn; I've already turned the heel!
P.S. SP, I did notice your little mistake, and I must confess that I clicked it, but I read no more than a few words, realized what I was doing and clicked out. I edited your comment, as well, so I won't be tempted in the future to go back and check out your blog until the SP round is over! So, your secret is still safe, because I can't remember your blog URL. :)