Shades of Brown
I took a look at my knitting today and realized every WIP is brown. Brown socks, brown sweater, blah blah blah. Which is rather coincidental, because looking at the trees earlier this week, the vivid oranges and scarlets were losing their color and turning... you guessed it, brown. My knitting matches the environment. Am I trying to camouflage? Or am I expressing my mood?
I haven't been in a good mood this week, some crap went down at work that I don't want to post about, Jason has been very busy and stressed out at his job and is frantically trying to finish up the garage before the snow hits, so I haven't seen him as much as I'd like, I've been PMSing which is always a joy, LOST has been reruns, and I'm just being a big cranky baby. Boo hoo. Maybe now that I've posted about it, I'll feel better.
I need to keep reminding myself of my things to look forward to.
Things to look forward to:
Our Florida vacation! We leave Nov 22nd.
LOST is a new episode this week!
Brown Knitting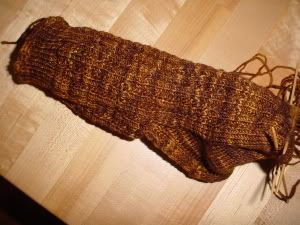 Chocolate Waffle progress. I haven't worked much on this at home this past week, but they have been my "work" project for lunchtime and prep hours. I cast on for this for
Pixie Purl's Solid Sock-a-long
, but I'm not sure if she approves of the yarn. It's a hand-dyed brown that's slightly variegated perhaps, but I think it's more kettle dyed in my opinion. Oh well.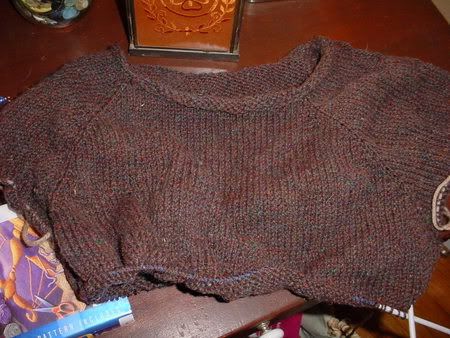 I picked up my (wo)Men's Knitting Pure and Simple Top down Raglan this week, as well. I'm calling it a (wo)men's, because it's the Men's pattern, but it's going to be for me. I've been wanting a floppy boyfriend-type sweater and think this will fit the bill nicely. However, while working on it yesterday, one of my Denise cables snapped. Again. This is the second problem I've had with it and I'm really bummed because I was planning on taking them with me to Florida and don't think a replacement will show up in time :( I wanted that particular cable length for a scarf pattern I wanted to try.
I've really been scrapbooking more than knitting this week. I scrapped quite a few pages of our wedding (3 years ago!), and a ton of pages of Marzi and Patches. When I was a kid, I
loved
looking at my Mom and Dad's old pictures, so I hope our future kids enjoy looking through my scrapbook albums. It's funny how I think of these invisible kids we have when I'm scrapping. Does that make me weird?
P.S. Thank you SP for the ecard!