** I want to thank everyone for their compliments and welcome backs. For some reason, I'm not getting emailed when people make comments so I can't reply, but please know that I sincerely thank you!!!**
Well, I return with a few more pictures today, but no knitting pics as of yet. So if you're bored with hearing about my vacation, just skip right on by this post. I promise it'll be the last one-- I really don't want to seem like I'm bragging. Sorry! I just don't have the patience to pull things out right now and take more pictures and upload them. Since we've gotten back, I've found it hard to get used to even just being here, so I haven't picked up my knitting since the socks I finished on vacation. I'm sure I'll find my knitting urge again soon though.
I do have a few things to share. Check out this
Lost movie
(click on Watch This Movie next to Charlie's pic). I need to go and find a synopsis of the 2 episodes I missed while we were gone :p. I tried to catch up last night on the two episodes I missed of Project Runway, but I fell asleep 10 minutes into it. I swear I didn't think it would be this hard to get over the 5 hour time difference! I've been waking up at 3 or 4 am every morning and it takes me forever to get to sleep again, and then I find my eyes closing by 8 pm. Sheesh!
Anyway, a little more about our trip. So, I expected England to be cold, but doing a little research before we left, I discovered that they don't get as cold as Michigan. However, I was completely stunned to see roses blooming in January!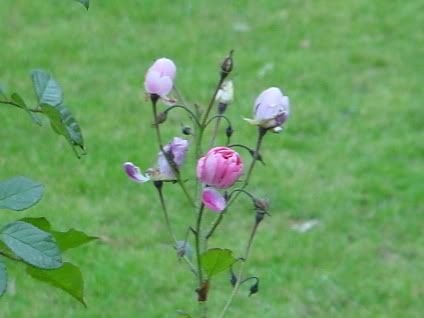 Crazy isn't it? I have forever loved the book
The Secret Garden
, and it was wonderful to see all the little gardens behind brick walls. Sigh; I absolutely want one now!
Here is a somewhat dark picture (I really need to get into photo editing more) of dh and me in front of the trebuche at Warwick Castle. Some of you might remember that dh built a trebuchet 2 Halloweens ago, so he was very excited to see this one.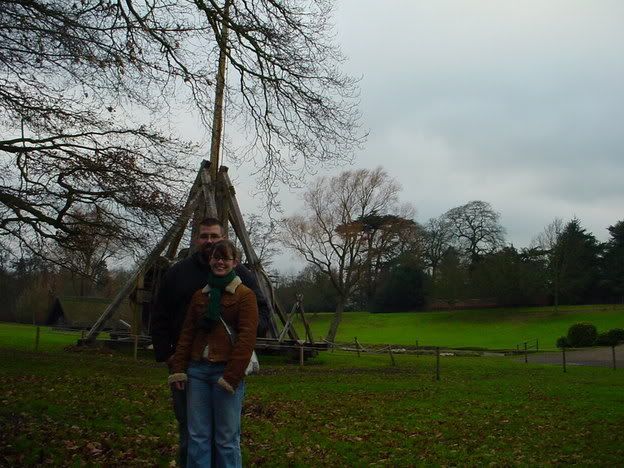 We managed to fit in TONS of sites while we were there: Buckingham Palace, Roman, church and castle ruins in York, York Minster, West Minster, Tower of London, Tower Bridge, Shakespeare's birthplace, his tomb, the houses of his daughter and granddaughter, Warwick Castle, Harrod's, Science Museum (not worth it), Imperial War Musuem (a great museum that dh wished we had more time for. We spent 2 1/2 hours there and didn't even see half of it), Parliament Square, Trafalgar Square, Big Ben... I'm sure there's more that I can't remember...
I just loved soaking in all the little nuances of being in another culture, and trying to pretend that I wasn't an American (although I know everyone realized especially once I opened my mouth LOL). I've been reading Brit chicklit books for years, so it was so neat to go into all the little "regular" shops that I always read about. Here's a list of the little things I just loved while in England (besides the usual sites):
* coming back to the hotel in the afternoon for a cuppa tea
* full fry up breakfasts
* the toiletries at Boots
* sandwiches from Marks & Spencer
* hand pulled real ales
* the whole pub experience
* the Brit soap operas (on in the early evening, not at the time ours are) and game shows (they take them really seriously!)
* Cadbury hot cocoa-- delish and so rich!
* candy candy candy-- maltesers, flake, veggie friendly skittles & starburst (I came home with a bag full!)
* sheep everywhere!
* the tube (mind the gap)
* newsagents
* oatcakes
* the houses, cobblestone roads
* how open they are about certain things (page 3 girls-- topless-- of the Sun newspaper, the fact that they can say the f word on tv, etc)
* food packages being labeled "suitable for vegetarians" I was worried I wouldn't be able to find things to eat in England, but surprisingly, I had more choices than I do here! Every restaurant we ate at had numerous vegetarian options and they were all clearly labeled as such.
One thing I won't miss is the coffee. UGH. awful awful awful. Yes yes I know they're known for their tea and not coffee, but I really need my coffee fix in the morning. Needless to say I didn't learn after numerous truly terrible cups. However, we did find a fantastic Italian cafe in London that made AMAZING cappuccinos (and a really good egg & cheese toasted breakfast sandwich as well) so we ate there every morning we were in London.