It's almost here!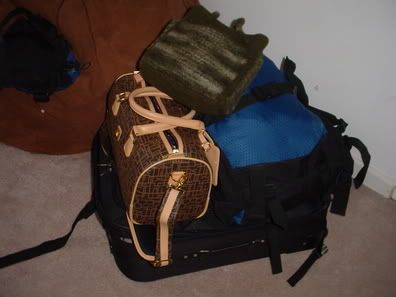 My bags are packed (well almost-- I still plan on slipping a few more things in there ;)). See that great felted bag on top? It was a gift from my
Knitter's Review Gift Elf, Jane
. She just started a blog, so
go say, "hi," ok
? I love the bag-- it's going to be my flight purse-- just the right size for a snack, reading material and a little knitting project!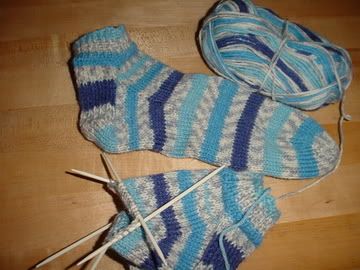 I've also started on a vacation pair of socks. I think I took them a little too far. I just wanted to get the second sock cast on before we left, and then yesterday I decided to go ahead and turn the heel, and then do the gusset, and well, you get the picture ;) I may have to throw an extra ball of sock yarn into my bag. I'm using KnitPicks parade yarn and the
BMG's Footie pattern
. I love this pattern because it's so speedy!
I'm also bringing some yarn to knit the Garter Brim hat from Weekend Knitting. This will be my last post before our flight leaves tomorrow night-- we return on the 20th. I'll be sure to bring back lots of pictures!!!