Catnip Crazy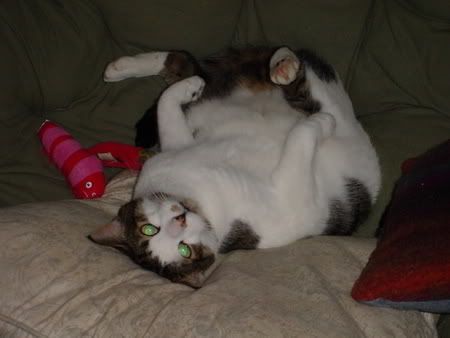 We took a little shopping trip at the pet store on Friday and picked up some a few new catnip toys for Patches (and of course some things for Marzipan, too; we love spoiling our pets). Do you think he liked them? LOL He laid like that for a good 15 minutes.
I do have a FO to unveil: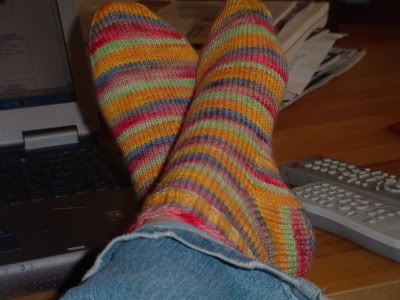 and have already started a new pair using Knitpicks Dancing. Managed to get into the gussett while watching Saw 2 (liked the orignal better) and disc 3 of Nip/Tuck Season 2 (strange strange episode on that disc!) yesterday.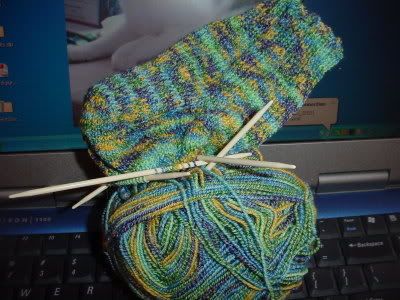 It was so cold this weekend, but we did venture out into the frigid temps. Yesterday we checked the temp oustide around noon and it was 5 below zero. Brrrr. My parents and brother came up for Saturday, though, so we headed off to Frankenmuth for their famous roast chicken dinners (sides for me as I'm a vegetarian of course), some fudge and salt water taffy, and a little yarn. I ran into Rapunzel's and picked up some more sock yarn. I really don't like that store much-- they've never been nice to me. Ignore me completely, in fact, while chatting up the "older" more "wealthy looking" customers. Grrrr.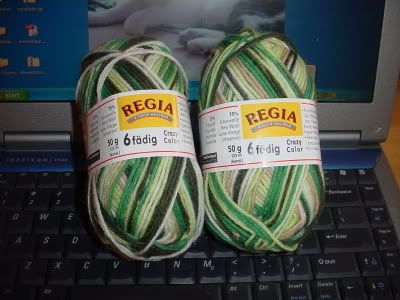 It's Regia 6-- I'm thinking they'll be another pair of the shorties I have pictured below in the blue stripes.
I'm in a sock funk. It's strange, but I started off 2005 with the same obsession. Must have something to do with the cold weather. I've been in a bit of a winter blah the past couple weeks; haven't been reading my bloglines list, and haven't even been checking out the knitting boards. I'm trying to catch up a little today though, and pull myself up a bit. Hopefully spring will be just around the corner!