Happy Paczki Day!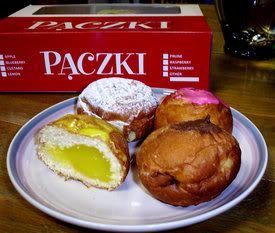 Don't know the joys of the Paczki? It's a huge thing here in Metro Detroit. I had never heard of them until I moved here, but heck, I think we could all use an excuse to eat a paczki or twelve.
(you can read more about them here)
I've been feeling a little uninspired on the knitting front lately. Perhaps it's all the sugar and fat, but in all seriousness, I've been feeling that way for a while. I really haven't been knitting much. Sure, I knit a round or ten while watching Season 2 of Nip/Tuck with Jason, but there hasn't been a project that's screamed out to be knit in a while. I'm trying though.
I love
Gidget Casts On's neckwarmer
from
this pattern
. I also dig
Starsky
, though I only have 5 hanks of Knitpicks Sierra in Tide languishing in my stash instead of the necessary 10. Jason has even entered the knitting arena (no, he hasn't learned to knit, although I really wish he would!) and asked for a pair of fingerless gloves a la
this pattern
. I just feel eh though.
Perhaps the new Magknits will inspire me when it arrives. I haven't been able to read the new Spring IK. My subscription expired, and I haven't been able to find it in the stores. I need my inspiration fix!