(this post was written on Friday, while at work and later typed into an entry)
Well, it's St. Patrick's Day. Yippee. (note my sarcastic tone) It's business casual day at the office, which means it's ok to wear khakis (which is crazy to me since khakis are being "dressed up" in my mind). So, I'm wearing them, and guess how many other people are. One. One other person. Everyone else is in their usual suits and heels. Ugh. That's so pretentious and boring. It just reminds me once again why I'm truly a teacher. Teachers go all out for holidays and casual days. Yes, partly because kids love it, but also because teachers are such kids at heart. These people.... aren't. There are a million adjectives I could come up with to explain what they are, but none of them are nice things to say, so I will merely refrain from commenting. Most of them are nice enough, just a little stodgy and boring. It's a world of dark colors, clipped voices and the tictac of keyboard keys.
I broke down this morning and bought the
Something Red cardigan
and the
Somewhat cowl
patterns. I plan on casting on this weekend. I'm almost finished with my secret project-- only 5 more rounds to go and then I can bind off. Have I mentioned how much I love seamless projects? You bind off and you're done. No seams to sew, no fretting if one side is accidentally longer than the other, no concerns with pinning straight. You just admire your work and be done. Of course I do have a bit of kitchenering to do...
Anyway, the temp job is going well-- insanely boring but I'm getting caught up on my magazine and book reading. I get an incredible amount of free magazine subscriptions, and it's nice to be able to pitch them almost as soon as they arrive, since I'm reading through them so fast at work. Not to mention the book reading. I'm almost embarassed to admit I'd never read 1984 until yesterday. Very good and thought provoking, as well as a little scary, but a tad heavy to be constantly interrupted by phone calls. (haha my job is interupting my work!)
I thought I would also mention my new favorite yoga dvd-- Vinyasa Flow by Seane Corn. I took a yoga class way back in college (after 13+ years of dance it seemed a natural fit), and I loved it, but I wasn't finding that same spiritual connection in any of the dvd yoga workouts I tried (and a class isn't in our budget right now). I finally found it in this dvd. After reading the Amazon reviews, I notice that people either love her or hate her, so you might want to check it out from Blockbuster or Netflix first, but it's a perfect fit for me. Sorry to sound like an infomercial, but it's refreshing to find a yoga dvd that just fits, know what I mean?
Here are my Knitpicks Dancing socks I finished recently. I just wore them today-- no concerns with sagging or fit; they're comfy!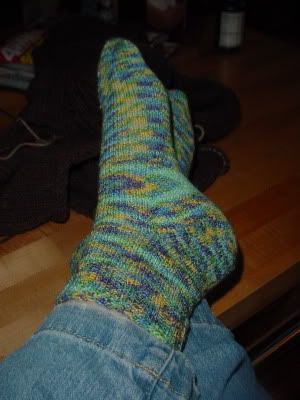 Remember this old thing? It's a Knitting Pure and Simple Top Down Raglan Pullover pattern I started a while ago. I decided to pick it back up again the other day.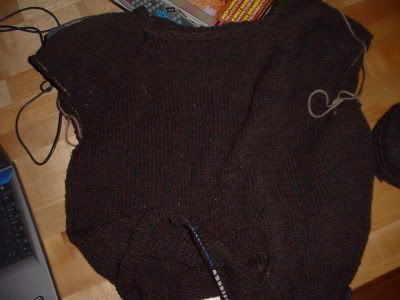 And here's a cutie picture of Patches the cat.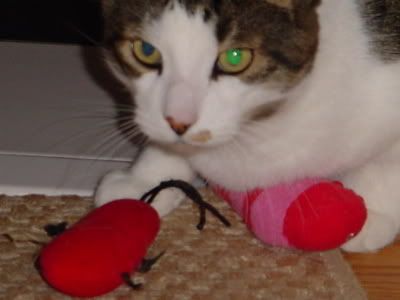 Who me?