Our trip to Toronto and Niagra Falls last weekend was great.
Here was our view outside our hotel window. We stayed at the Intercontinental, which was ok. I thought it would be a little nicer since it was so pricey, but it is a big city, and of course everything is expensive. And then there was that fire alarm at 1:00 in the morning. We stayed on the 25th floor-- the top floor of the hotel, and had to walk down 25 flights of stairs for the fire alarm. Ugh. It was just a false alarm.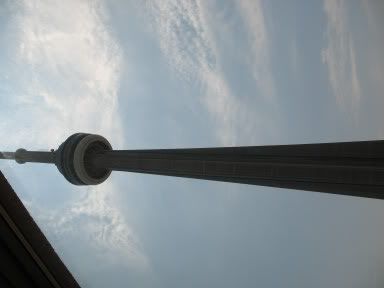 We had a beautiful view of the CN tower.
Here's another picture of the CN tower, taken across the city at night. Sorry it's a little blurry, I took it after 2 pints of Guinness! LOL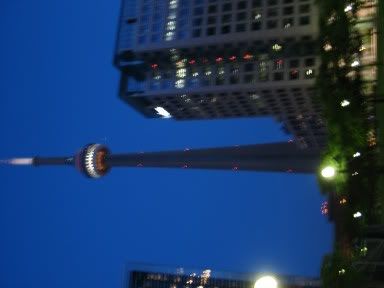 We also went up the CN Tower and you can go out on two different observation decks. One of them has glass windows, and one of them just has fencing. It was SO windy on the one with fencing, and I wore a skirt that day. I felt like Marilyn Monroe, and I know I ended up mooning people. There's also a glass floor that you can walk on and can see all the way to the ground. It was the scariest thing I've ever done.
Here's a picture I took while standing on the glass floor: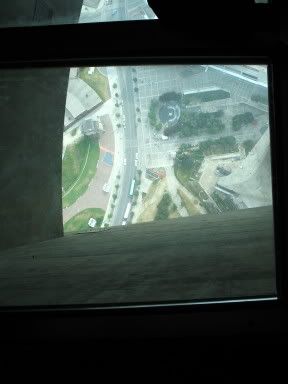 A picture of the falls. It was so misty and wet that the pictures don't look that spectacular, but it was beautiful: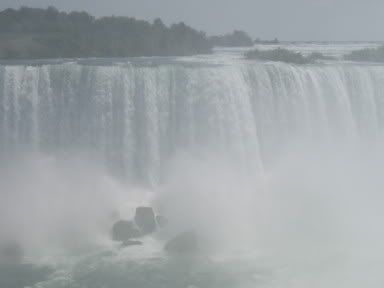 Another: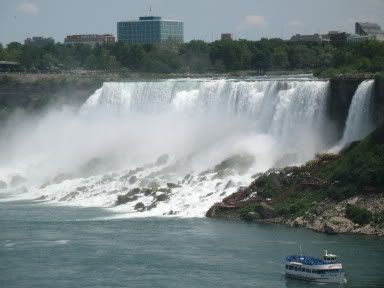 Then we also went to an attraction called Behind the Falls, where you get to go down in an elevator through tunnels to get close to the falls, and then behind a section of them. Here's a picture of me close to the falls: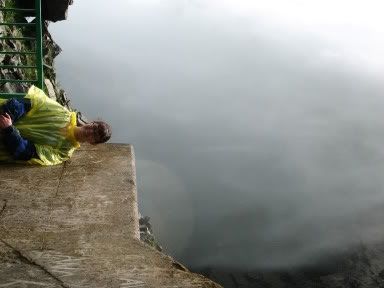 Another: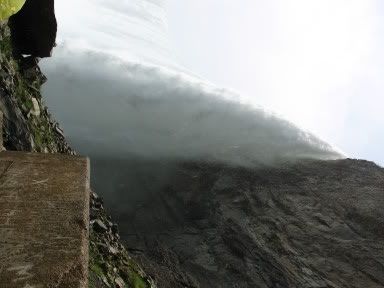 They give you ponchos to wear because you get wet. It was hard to take pictures because it was so wet, but we managed to snag a couple. We drove across to Buffalo, too, (I'd never been in NY before) but we didn't have time to go down to the falls on that side. We just drove along the rapids and whirlpools.
I'm bummed I didn't get any pictures at the St Lawrence Market we went to that every kind of food imaginable, or in China town, but they were both really cool, too.
I did manage to find my sock needles before we left (literally minutes before we left--they were hiding in another unfinished sock project), but I didn't find much time to knit. I managed to cast on, and that was it. I am still working on the cardi I posted about last time :) ALMOST to separating the arms.
Thank you all so much, once again, for the comments and support on my miscarriage. It pains me, but also gives me a sense that I'm not alone, to know that so many of you have experienced the same thing. My heart goes out to each of you.