I am now officially cool
I finally have one of these courtesy of my mom and my belated birthday present: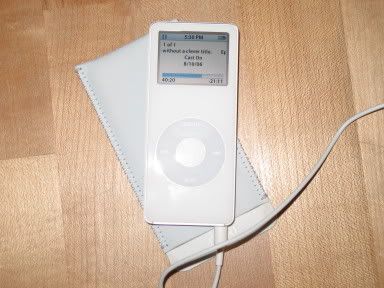 I've been listening to podcasts non-stop.
Definitely love:
Lime & Violet
Really cute and quirky, with lots of stash enhancement and yarn raves.
Tim Gunn's Project Runway Podcast
He provides great insight to the show and behind the scenes tidbits.
Knitcast
Really nice interviews.
Cast On
I didn't think I would like the music interspersed throughout the dialogue, but I really enjoyed her music choices, especially in the latest--
Josh Woodward's
song. I also liked the little snipets into her life-- much like a blog, I love reading/hearing about people's lives along with their knitting.
D.I.N.K.S. on TV- Project Runway
Now I do like their Postshow podcast, but not their pre-show. I really do enjoy their input on what happened on the show, though. Their preshow felt like it just kept going on and on.
Not for me, but you might like them:
Knitting News
Seemed a bit redundant to me.
Knit2bTied
Difficult for me to hear what's going on, and not a lot of actual knitting content.
While listening to knitting podcasts yesterday, I managed to weave in the ends to my Cavern Cardi, and get it blocked. Here's a sad blocking picture. I had to mess around with the flash to get it to take right, and it looks splotchy because it's still damp.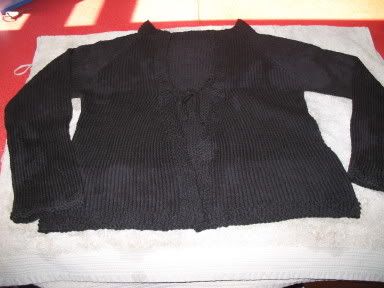 Yarn: Cotton Ease in Licorice (can't remember how many- sorry!)
Needles: Denise
Pattern:
Cavern Cardigan
As I mentioned last week, I did cast on for Green Gables as well. Here was my progress as of yesterday afternoon: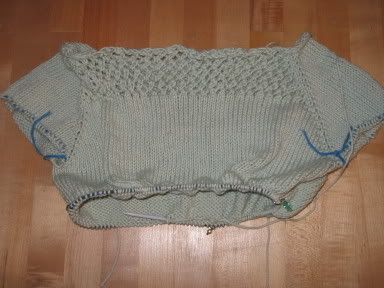 And here is what she looks like this morning: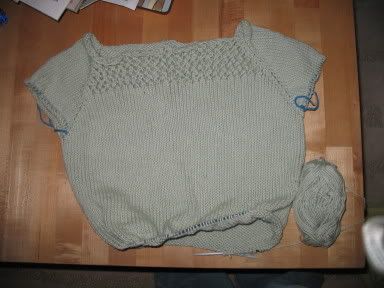 I'm using the Knitpicks Mainline, and I do like it quite a bit, although it seems to be a bit sticky and stinky. Has anyone else experienced this?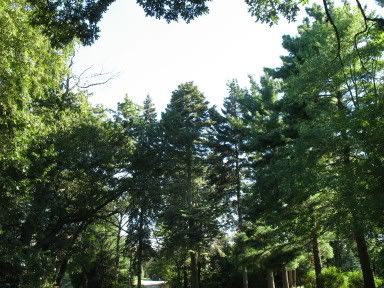 I didn't do much yesterday except laze around listening to podcasts and knitting. It was quite nice. Here's my lazy Saturday Sky. I stepped out onto the porch to take it-- it's a view from my front yard.